Ever wonder how to make your own vanilla extract? If you're like me you assumed that "pure vanilla extract" was simply that, you might be surprised.
Some brands use high fructose corn syrup to sweeten their "pure" extract, which to me just seems a little.. ugh. (We try to limit, as much as possible, an overexposure to processed sweeteners.)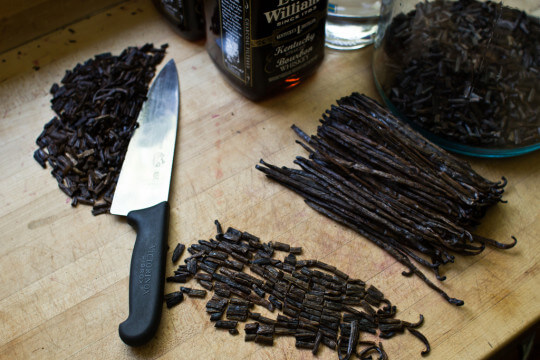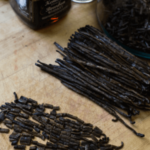 Print Recipe
Homemade Vanilla Extract
Avoid sweeteners and artificial flavors by making your own vanilla at home.
Ingredients
1

gallon

Liquor (Vodka, Bourbon, or Rum)

1

pound

Fresh Vanilla
Instructions
Chop beans into segments several inches long in lieu of slicing beans (which seems more time consuming).

Shake the bottle every once in a while to get things stirred up.

Curing should take at least 6 weeks, but this can remain curing for a long long time.
So then what? The fun part is all in the packaging. Individually package your vanilla by filling individual jars or bottles.
Order them in bulk online or check out thrift stores and flea markets for more interesting shapes and colors (regardless of which path you choose, be sure to thoroughly sanitize your jars before use!)