You all make me happy.
You really do.
I love that this little site is a haven with over 1500 followers. In person it's hard to find peers with common interests, so it means a lot to me that we've found each other! I love sharing my ideas for recipes and inspiration for natural living.
But the thing is.. sometimes I feel like it's one sided.
I want more feedback from you all! As a blogger comments are important to me because it lets me know what we're doing right (and wrong). What are your questions, comments, concerns?
Giveaway Month
In order to thank you for following us and to help encourage more feedback we're going to spend the entire month of October doing giveaways.  All of our giveaway prizes were picked because they are handmade by small artisans that I found on Etsy who feature quirky, veggie inspired products. I know, I'm a nut! But I'm guessing you are too if you're reading this.
To kickstart this month of spreading happiness I'm going to show you all of the fun veggie products that I found on Etsy– the products that inspired the giveaway to begin with.  Throughout the weeks I'll be highlighting the ones that are being given away, with details on the sellers. At the end of the month I'll also be throwing in my own little special "thank you" prize as well.
You can start getting involved now by leaving comments. Not only on this post, but on any post that was made on H&H, at any time. The more comments you leave the more chances you have to win, because at the end of the month I'll use random.org to pick a random comment from all that were left between now and then. Take this opportunity to read older posts that we've written and explore the site.
In the meantime
In the meantime, you can peruse these cute products that made me smile. Every week over the course of September and October we will be doing a giveaway featuring many of these items. Now that's something to be happy about!
You can see our Pinterest Board with all of these items on it here.
You view the Etsy Treasury of these items here.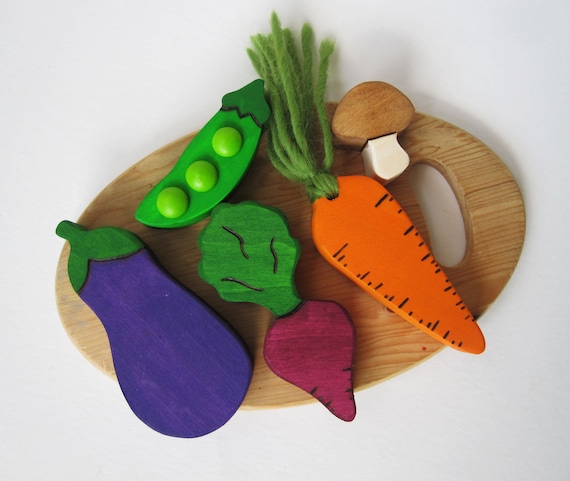 Wooden Vegetable Play food  
Now it's your turn. Leave a comment and let me know: what are some things that make YOU happy?