Do you remember in the fall when I first mentioned how much I dislike kale?  At that time I discovered a yummy version of pesto that helped me to use up a big batch.  Well after trying it time and time again I've found out a few secrets that have led me to realize just what I've been missing.  One of the biggest motivators to this change is mentality is that kale is SO GOOD FOR YOU. As in, so good that you should really convince yourself to eat it as often as you can.
Kale has one of the highest levels of antioxidants of any vegetable as well as one of the highest levels of total carotenes. It's especially high in lutein, zeaxanthin, chlorophyll, mancanese.  It's loaded with anti-cancer phytochemicals.  A bit of honesty here as I admit I have no idea what that stuff is, but here's some terms I do understand: It's high in vitamin C, folate, iron, vitamin A, B vitamins, fiber and calcium.. You get the idea, right?
Another trick I realized is that I like it much more when it's raw or only lightly sauteed. So sorry collard greens, I don't need you anymore!
This week our CSA included a little twist on the traditional when we were given a big batch of red kale. What's the difference between red (Russian) and regular (curly)? I haven't been able to find much information discussing the non-aesthetic differences [perhaps some of you readers can weigh in?]. My own experience tells me that red kale is less tough than green, the leaves are more delicate. This means that if you prefer your food raw you may prefer this version to the traditional.
Since we will most likely be eating our kale in non exciting salads, I did a roundup of recipes that include red kale.  No matter what time of day it is this quick guide should be able to provide you some inspiration on how to get your daily fill of kale-induced vitamins.
For breakfast, I present Red Russian Kale and Red Onion Savory Breakfast Squares Recipe

A midday snack? Try kale chips! Purple and Green Kale Chips

For lunch, try this Rustic Red Kale and White Bean Soup

For dinner, a hearty Winter Pasta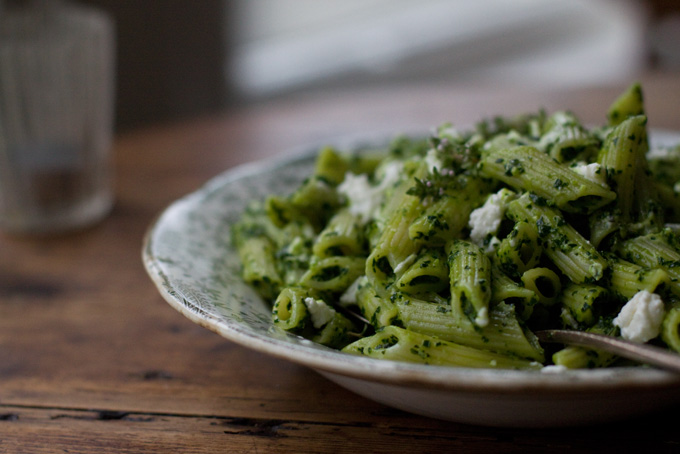 Or a savory side dish, Sauteed Kale with Garlic and Onion

Did you think I would forget about desert? I'm not even joking about this one!