This is a sponsored post written by me on behalf of Florida Department of Citrus for IZEA. All opinions are 100% mine.
The number one resolution made each year has to do with living and eating healthier, but unfortunately most of us fall short of our goals– especially as we're nearing the end of February and people are already forgetting those things that were so important to them just last month! Many families don't get enough fruits and vegetables in their daily diet, but a really great (and simple!) way to do that is by drinking nutrient packed smoothies. There's something amazing inside each glass of 100% Florida Orange Juice. An "Amazing 5" to be exact. The "Amazing 5" benefits in 100% Florida Orange Juice can be an important part of the family diet.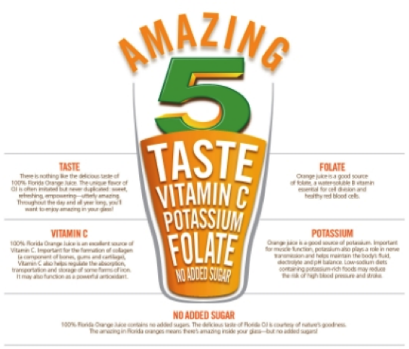 By simply adding in this naturally nutrient-rich beverage to the family diet you can easily make a those changes to live healthier!
Are you a fan of Orange Julius? We've got a knock off version of their popular smoothie here that not only tastes great but is great for you, too! We've packed it with extra probiotics from the yogurt and Kefir, and blended it with fruit like bananas and pears. Enjoy it for breakfast or any time of the day.