Update: 10/26/2012: A winner has been chosen! Thank you to Marianne for participating! She will be notified via email. Thanks everyone for leaving your comments! This giveaway is now closed.
---
As a wife to a very manly man, and because we're frequently entertaining his manly man friends, the word "coaster" is a foreign one in our household.  On those rare occasions when ones are used the designs are usually something with the words "Guiness" sprawled across it. Can any of you relate to this?
When I came across adorable felt fruit & veggie coasters it put a smile on my face.  Now I can entertain my garden party friends in style!
How to win
In order to participate in the giveaway all you have to do is leave a comment anywhere on H&H: any blog post that was written by any person at any time. Take this opportunity to click around on the site and see all of the interesting articles that are on here! Just don't forget to leave your email address so we can contact you. On October 26 we will announce the winner and give you instructions on how to get your prize!

My life has been enriched by creativity. While my four children were young, I hand-painted ceilings and walls, created floral arrangements, embellished clothing, made Halloween costumes and helped with school projects. I've designed custom jewelry for local shops, stitched and embellished an heirloom crazy quilt entirely by hand, and frequently entertained like Martha…and I've loved every minute.

My children are grown now, although not quite emancipated, and my desire to continue creating is the foundation for HeartStrings Handmade. I have a penchant for whimsical designs, but I concentrate on attention to detail and fine craftsmanship. My materials range from vintage fabrics and trims graciously donated or serendipitously discovered to new fabrics, felts, findings and beads I just couldn't resist.

My designs are meant to "tug at the heartstrings" and hopefully encourage a smile in the process!
About the prize:
Felt cucumber coasters add a fresh garden feeling to your table or bar!  These coasters are hand stitched from wool blend felt, for a softer hand and more subdued color than eco felt can provide. Two layers of dark mottled green are topped with a pale pistachio green center and five off white seeds. Each piece is carefully hand stitched and then layered to create a full bodied mat to protect your surfaces. Coasters measure 4 1/4 inches in diameter, and come in sets of four.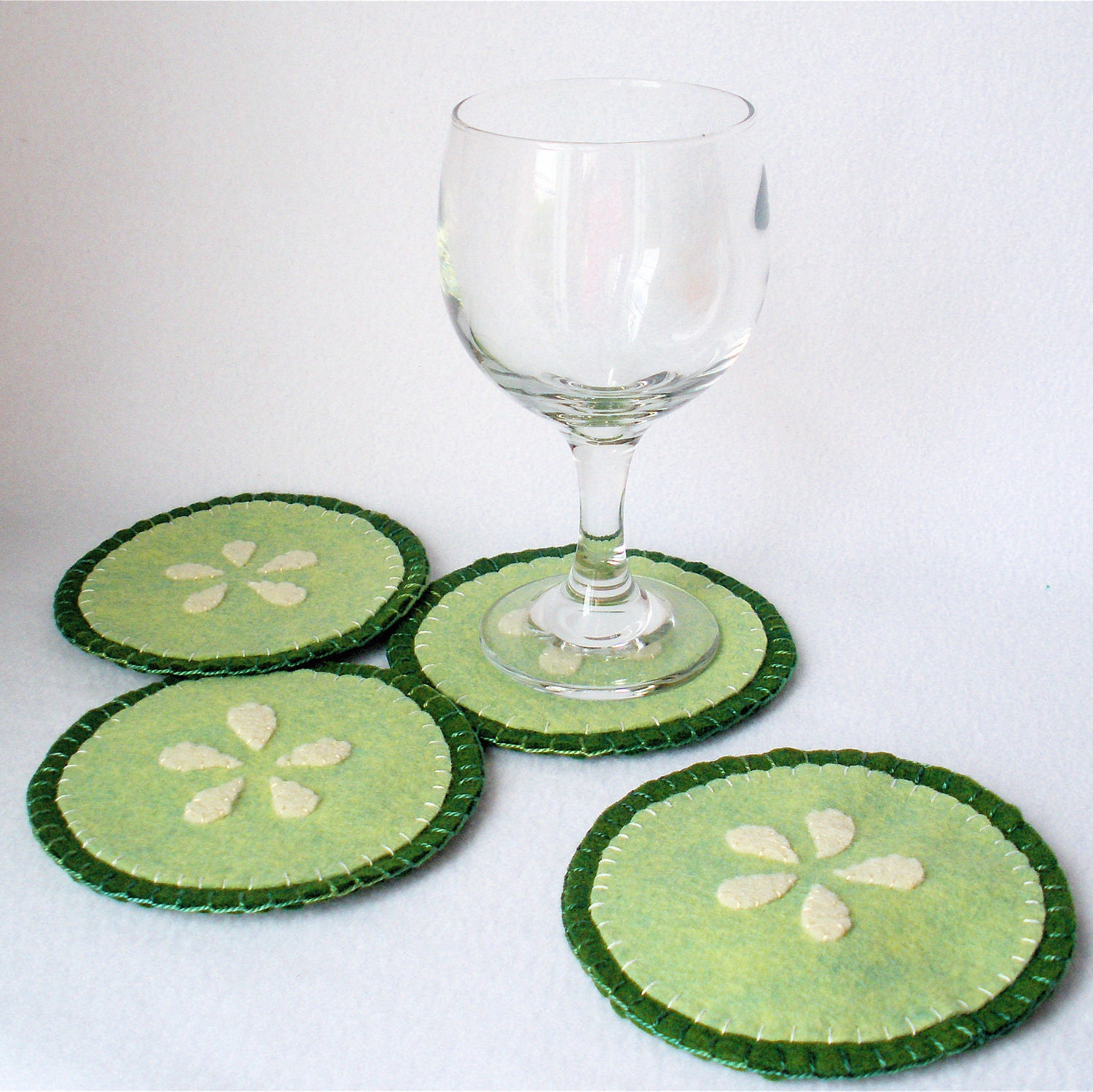 Heartstrings Handmade is offering an entire set of coasters, but you can pick which variety. Here are a few of my favorite fresh styles, but there are a ton on her Etsy Shop as well.