Update: 10/5/2012: A winner has been chosen! Thank you to Susie for participating! She will be notified via email. Thanks everyone for leaving your comments! This giveaway is now closed.
---
As a mother to two girls I admit that I have, in the past, tended to get carried away with the pink and ruffles. I'm not proud of it, but I've accepted that it's who I am. I may have to join a support group or something.
For those of you with your own little ones (or great-little ones) that enjoy accessorizing them with the finer things in life, I recommend these adorable bibs.
For those of you who don't like adorable accessories: your kind isn't wanted here. Shoo!
How to Win
In order to participate in the giveaway all you have to do is leave a comment anywhere on H&H: any blog post that was written by any person at any time. Take this opportunity to click around on the site and see all of the interesting articles that are on here! Just don't forget to leave your email address so we can contact you. On October 5 we will announce the winner and give you instructions on how to get your prize!

Welcome to The Naptime Project! This shop originally started as a photo album I shared on Facebook of projects I made while my twins napped, and I'm excited to be sharing my creations here. I make custom items for your little one, as well as some other fun things.
Naptime Project on Etsy | Facebook
About the Product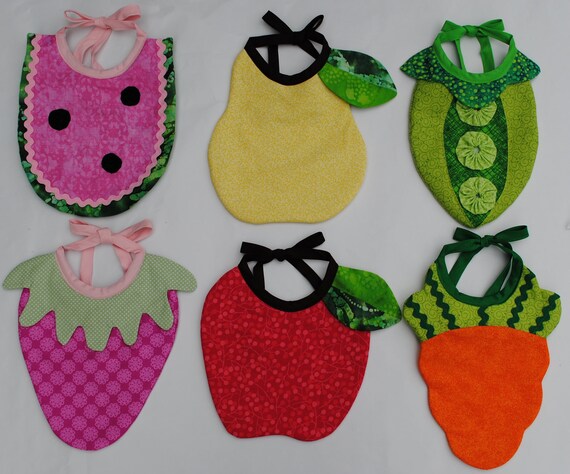 Now your baby can wear their fruits and vegetables while keeping their clothes clean! These fun bibs are made of 100% pre-washed cotton, and are lined with a layer of fleece. They are finished with a pink, dark brown, or green tie. Some bibs are embellished fabric yo-yos and/or rickrack as pictured.
The prize is one bib, and you have your choice of:
Apple
Carrot
Pear
Pea
Strawberry
Watermelon