Update: 10/12/2012: A winner has been chosen! Thank you to Elizabeth for participating! She will be notified via email. Thanks everyone for leaving your comments! This giveaway is now closed.
---
As an aspiring gardener my beds are littered with various herbs: chamomile, yarrow, and– what was that other one again? I can never remember. I really should get around to marking it soon…
And that is why I love garden markers.  I've seen them come in all shapes and sizes, but these particular ones from Get Hung Up really caught my eye. Their unique design and girly (yet not-over-the-top) appeal offer just the right balance for optimum garden cuteness. Order a set today, or enter to win your own!
How to win
In order to participate in the giveaway all you have to do is leave a comment anywhere on H&H: any blog post that was written by any person at any time. Take this opportunity to click around on the site and see all of the interesting articles that are on here! Just don't forget to leave your email address so we can contact you. On October 12 we will announce the winner and give you instructions on how to get your prize!

As the daughter of a seamstress I believe I was born with creativity in my blood. The best part of my business is working with the customers; whether it's a bride designing hangers for her special day, a friend creating a baby hanger for a shower gift or a daughter buying a recipe hanger for her favorite cook. Making the customer happy is my true pleasure! I look forward in continuing to grow Get Hung Up while encouraging people to buy American handmade products and support small businesses.
GetHungUp on Etsy | Facebook | Website | Email
About the prize:
Add some style to your garden with these cute herb & veggie wire markers.  This listing is for a set of four silver wire markers that you can choose.  The wire remains flexible so care will need to be taken to keep your wire word in perfect form. Each word is handmade so no two are exactly alike. Made from aluminum craft wire to withstand the outdoor elements.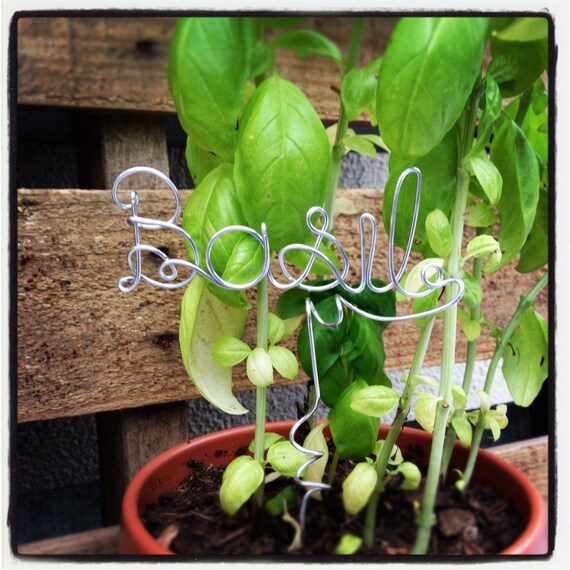 The prize is for a set of four markers, with custom words of your choosing. You can choose from silver, gold, or copper wire. Erica offers markers in all different quantities, so if you win the prize but want more to complete your set then she'll deduct the price from your order.