"Chocolate Coconut Chunk Cookie"
This time of year gets me really excited to be doing a ton of baking.  All I think about is all the little goodies I will get to make.  Unfortunately white sugar and I are not friends.  Though raw honey and I are best friends!   So when I am in the mood for something a little sweet but not terrible on my body I go to this recipe.
I created this recipe a while back when I was thinking of starting a grain-free baked good company.  I usually just bake these cookies to give away as a gift.  Today I would like to share with all of you H&H fans this very special recipe of mine.
Chocolate Coconut Chunk Cookies
Ingredients
2½ cups Blanched Almond Flour
½ cup Coconut Flour
½ cup Coconut oil or Ghee
½ cup Honey
2 Free Range Eggs at room temp.
1 tsp Baking Soda
1 tsp Sea Salt
1 tsp Vanilla Extract
1½ cup Dark Chocolate Chunks (soy and dairy free)
⅓ cup Walnuts
¼ cup Coconut Flakes (large ones)
Instructions
Preheat oven to 350 Degrees
Mix sifted almond flour, coconut flour, baking soda and salt in a medium sized bowl. Set aside.
In a small bowl mix together melted coconut oil, eggs, honey and vanilla.
Mix both dry and wet mixes together till well combined.
Add in coconut flakes, chocolate and walnuts.
Roll into 1 inch balls and place on an oiled cookie sheet. Flatten out with hand just a bit.
Bake for 13-15 min or till golden brown.
Enjoy!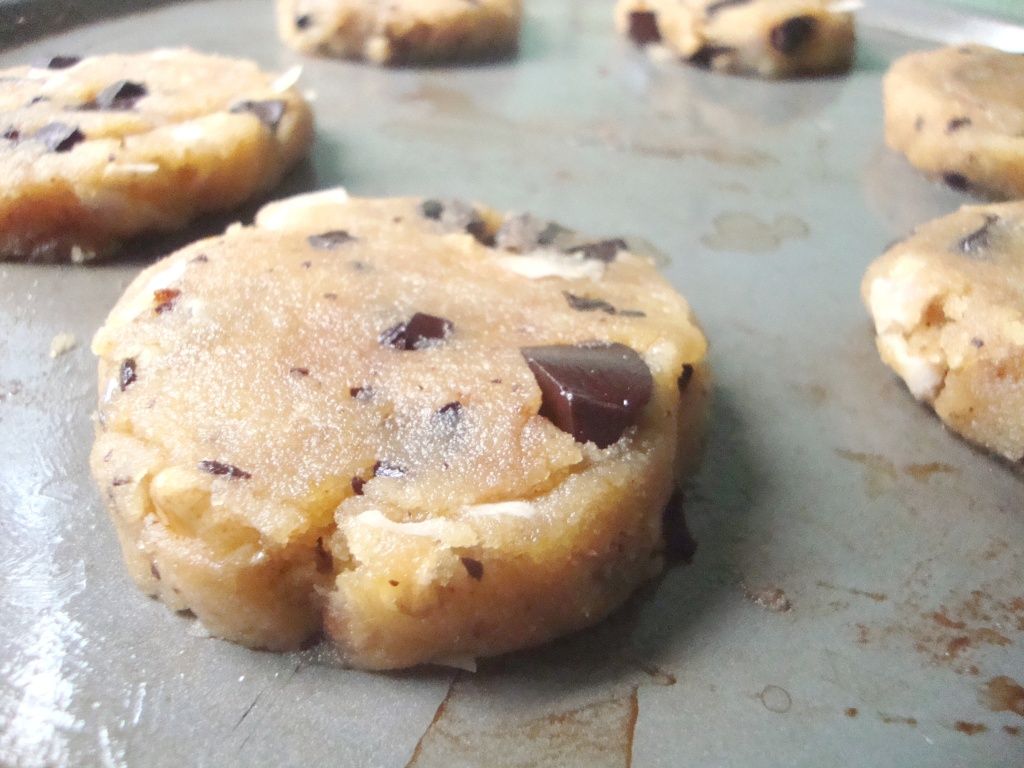 Perfect for those grain-free health nuts, like myself.   These cookies are packed full of protein and healthy fats for long lasting energy!  If you would like to make this just for raw dough eating pleasures, just omit the eggs if you don't trust the source.  I like consuming raw eggs but only if they are directly from a farm that I know and trust.  The dough is just divine by itself with no eggs!  Please let me know how well these turned out for you and if you switched up any of the ingredients listed.  I have made these into white chocolate, cranberry, cashew cookies that were to die for!
"Nom Nom Nom"
Love it? Tell your friends!
You'll also enjoy...