Canning is an essential skill to learn whether you're looking to gain some independence from mass-produced food, or simply want to enjoy the tastes of Summer all year long. Fears of contamination and botulism can make this seem like a daunting task, yet canning many foods is quite simple and requires little special equipment. That said, canning recipes need to be followed closely. Always use USDA-approved directions for best results and adjust according to altitude. Luckily, we have been provided with this handy USDA Guide to Home Canning
Peaches are one of the easiest foods to preserve by canning, and my personal favorite! When my new favorite fruit stand, White's Country Farm near Medford, OR, offered me 50lbs of deliciously low-priced peaches, I couldn't resist! I can peaches using a "raw pack" method, which means I load fruit into jars raw.You can also do a "hot pack" where you cook the fruit and fill jars while it's still hot. I'm not sure if it makes much difference for canning, but I try to cook foods as little as possible to preserve nutrients. I also cover my peaches in plain hot water (but add just a tsp of honey per jar). Many recipes suggest using fruit juice or even a simple syrup if you like sweeter-than-average peaches. If you would like to try any of these variations, recipes can be found in the USDA's guide.

Ash
Canning fresh peaches using the Water Bath Method
Ingredients
17.5 lbs Peaches (makes 7 quarts) -or-
11lbs Peaches (makes 9 pints)
Powdered Ginger
Powdered Cinnamon
Powdered Cardamom
Honey
Mason Jars
NEW Mason Jar Lids (screw bands can be reused safely)
Large Pot or "Water Bath Canner" (essentially a large pot). Must fit jars plus at least 1" of water above jars.
extra screw bands or wire rack to fit inside pot
Jar Grabber (makes life much easier)
Instructions
Wash peaches. If desired, blanch 1 minute to remove skins (I leave mine on). Halve or slice peaches and remove pit.
Wash mason jars and lids. IT'S VERY IMPORTANT TO USE NEW LIDS. This is what creates a seal on your jar and keeps bacteria out. Used lids may not seal properly. DO NOT REUSE LIDS. Screw bands may be reused if in good condition. Sterilize jars by filling with boiling water. Place lids in a clean bowl and cover in bowling water to sterilize.
Fill empty jars with fruit, leaving 1/2" head space. Loosely pack fruit, do not overload jars.
For each quart I added to following spices: 1/4 tsp ginger, 1/2 tsp cinnamon, 1/8 tsp cardamom, 1 tsp honey.
Fill jars with hot water, be sure to leave 1/2" head space. Work out any are bubbles with a clean utensil. Alternatively, fill jars with a simple syrup or fruit juice. Refer to a USDA recipe for directions.
Wipe off jar tops with a clean, damp paper towel. Put lids on according to lid manufacturer's directions. Generally, tighten lids using your fingers only (not your entire hand) for a snug fit.
Prepare water bath by lining bottom of pot with extra screw bands or a wire rack. You don't want the jars to touch the bottom of the pot because the heat could break them. Load jars over wire rack/screw bands using jar grabber.
Cover jars in water. Be sure to keep water level at least 1" above the tops of the jars at all times.
Boil quart jars for 30 minutes, 25 minutes for pints at or below 1,000 ft. If you live above 1000 ft, refer to the table just below this recipe. Processing time starts when water is brought to a full boil.
When finished, remove jars from pot using jar grabber. Set on top of a towel on the counter to cool. DO NOT TIGHTEN BANDS OR ADJUST LIDS. Tampering with the lids could prevent them from sealing properly. The lids will form a seal as the jars cool. You will probably hear a loud "pop" when this happens.
Store jars in a dark cupboard. Screw bands may be removed during storage and reused. Always check canned foods for signs of spoilage before using.
7.7.0.1
939
http://homegrownandhealthy.com/canned-peaches-water-bath-method/
You may also can peaches using a pressure canner. Refer to your canner's manual for proper directions (it's slightly more complicated, but faster!)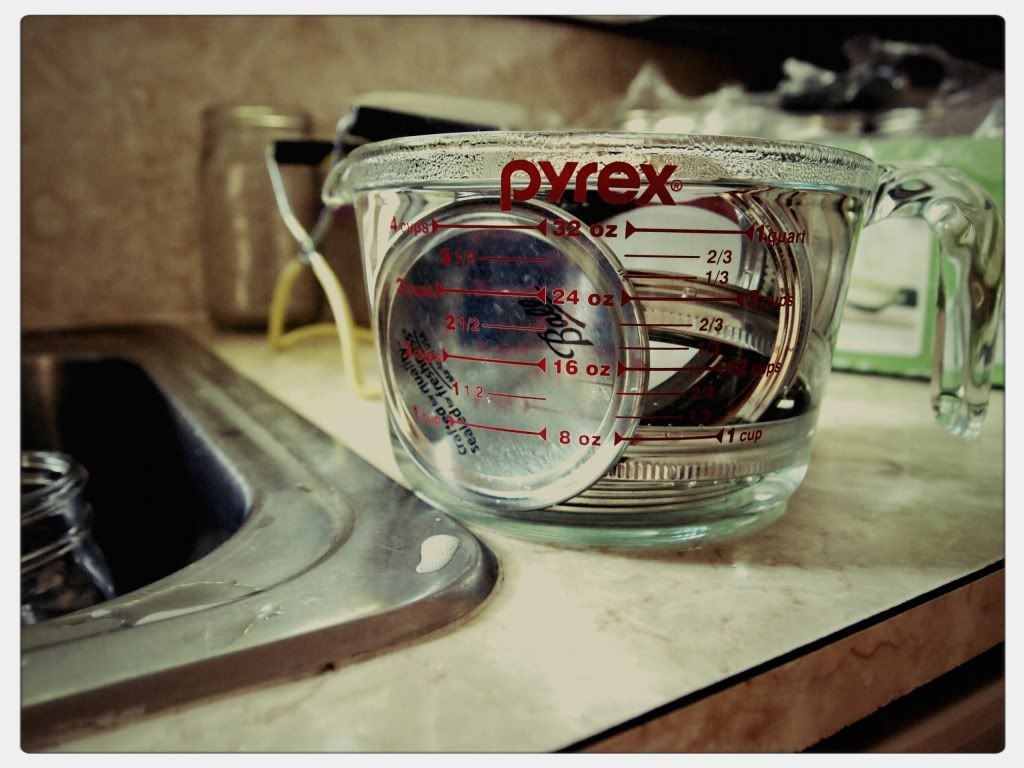 Sterilizing lids.
Filling jars with peaches
Adding Spices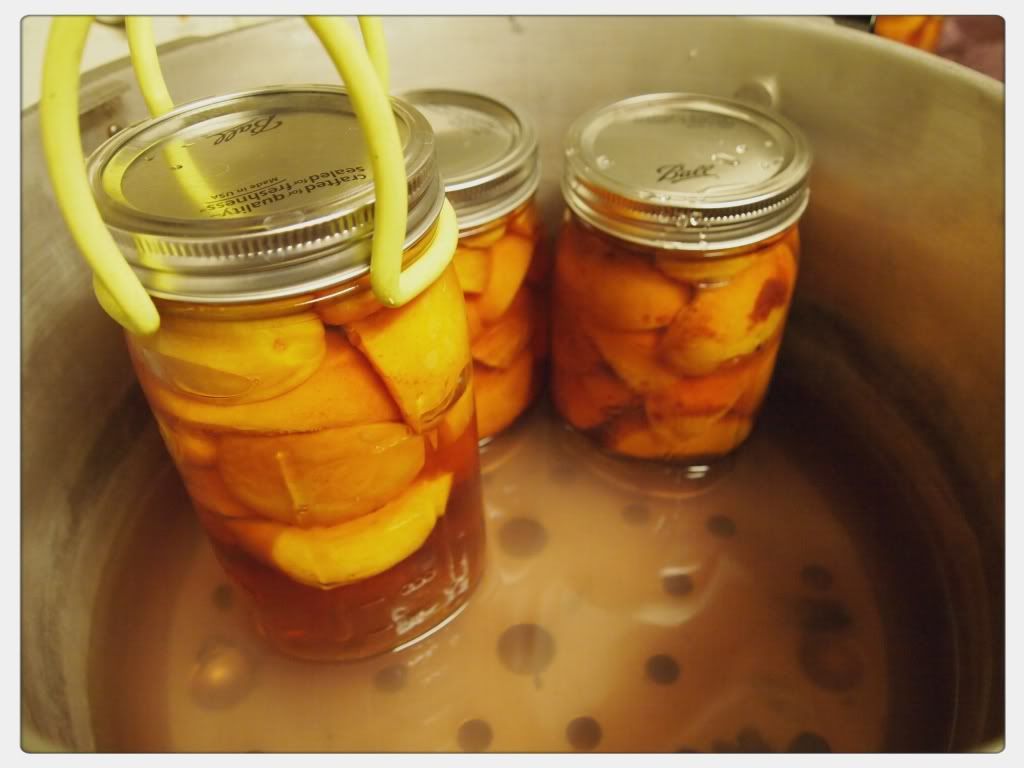 Lifting hot, processed jars with jar grabber