Update: 9/14/2012: A winner has been chosen! Elizabeth is another local food blogger, you can check her out at Food Ramblings. She will be notified via email. Thanks everyone for leaving your comments! The giveaway is now closed.
---
Okay guys, this is it… the product that started it all. I fell in love with this carrot while perusing Etsy one afternoon (I was perusing with a purpose, but I can't reveal that purpose yet so let's just leave it that, okay?) His whimsical charm captured my heart and now is your chance to bring him home!
He's not alone– he's got a tofu, cheese, and bacon friend that you can choose instead (just in case you're just not that into veggies).
How to win
In order to participate in the giveaway all you have to do is leave a comment anywhere on H&H: any blog post that was written by any person at any time. Take this opportunity to click around on the site and see all of the interesting articles that are on here! Just don't forget to leave your email address so we can contact you. On September 14 we will announce the winner and give you instructions on how to get your prize!
Kyle is a craftaholic. When her daughter was born in the summer of 2003, Kyle decided she would much rather work from home than spend her days in a cube, downtown. Her lovely Michael built a website for her creations, and www.buttonarcade.com was born! Isn't writing in the third person fun?
Button Arcade on Etsy |  Facebook
About the prize: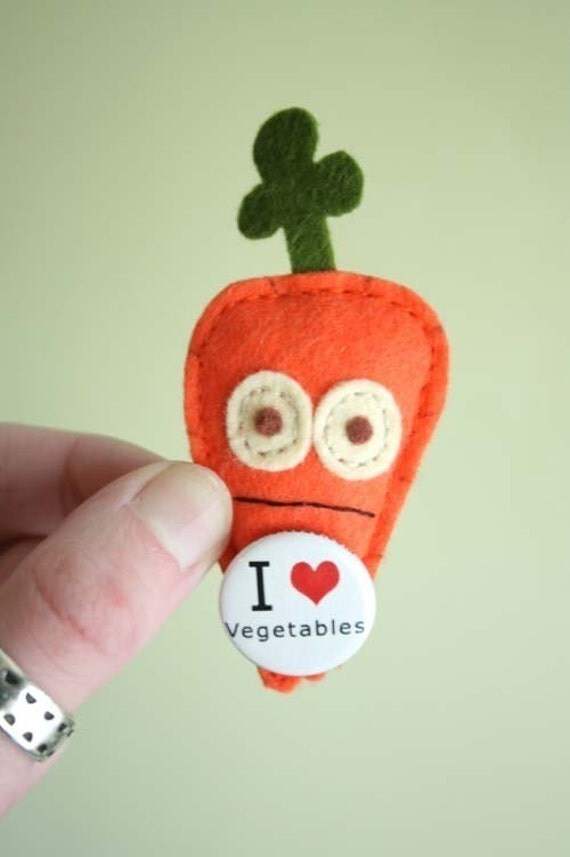 This guy is just not very happy. Someone took a bite out of him, then pinned a 7/8 inch "I <3 Vegetables" button on him. Those felt people can be such jerks! Our dear carrot measures about 3.5″ tall, and is made out of craft felt. He and his family members are all hand-stitched by me. You could sew a pin on the back, to make your felty wearable, or glue a magnet on so he can hang out on the fridge!
The felt is made in an Eco-friendly facility in the US, and is: 20% Wool/80% Rayon or 35% Wool/65% Rayon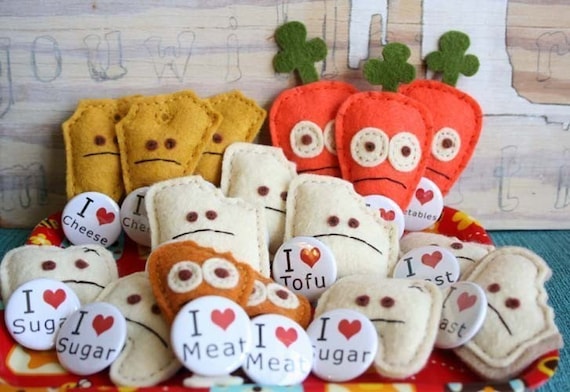 Button Arcade is offering one carrot, or any Irked Guy of your choosing– including bacon, toast, sugar, tofu, or cheese.